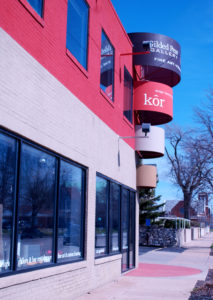 Home to 70+ artists and over 1,500 art works, the gallery hosts: artist exhibition receptions, artist workshops and lectures and small private events. The 5,000 sq. ft gallery is comprised of three sections of exhibit space, with the main entrance area serving as the rotating exhibit venue.
Gilded Pear Gallery provides art consulting and framing for businesses, residential clients, non-profits, colleges and museums. We offer art planning for in-gallery purchases as well as existing works for new businesses, relocation and remodels as well as art installation services. Gilded Pear Gallery also has fine art appraisal services for insurance, charitable donations, federal estate purposes, liquidation and resale.
Add this listing to your website:
Copy & paste this code onto your website to add this badge. The badge will send visitors to this listing as a reference.
Is this your listing? Keep it up to date & full of information.
Submit an edit or register & claim ownership of this listing